Fundraising
WebMoney Transfer offering a universal service Funding is a platform where you can place requests for fundraising.
This service allows you organizing projects in such domains as:
Donations. If you want to collect donations for charity or support of any project, then it is your choice.
Crowdfunding. Project owners can collect funds in the network for their implementation.
Organisation of events. Those who want to organize an event shall use this section. Interface can help in organizing selling of a fixed number of tickets.
Joint purchases. Many sellers are willing to offer a good discount, if a big batch is purchased. This section allows finding like-minded people who would like to buy the items you like.
Launch of the project is made in "For the authors of projects" section.

At the beginning of creating a new fundraising project, you need to choose one of the directions (crowdfunding, donations, joint purchase, organizing events), and follow the steps offered by the Configuration Wizard.
Example of creating a new project to collect donations
Expand
Designer will help to create your project in 4 steps:
The first step is to fill in the general information about the project:

Select the image for the project. Treat this step carefully, as your project will be displayed with this image in the general catalogue of the service.
Specify the name of the project. It should not be complex. The name should be simple and easy to remember.
Choose the category for the project.
Briefly describe the purpose of fundraising.
Specify the required amount.

In the second step, you will be asked to provide detailed information on the project.

If you have a video clip, which will help to make an opinion about your project, add the link to it.

Fillable

A detailed description of the project. In this section you can provide detailed information about your project, which will be available to all donators.
Specify the place for implementation of the project (city and country), if any.

You must specify a deadline for fundraising.

In the third step, you will be offered to fill in information "About Me" if you previously did not fill it in your profile in the service.

Done! Congratulations! Now you can successfully run your project.
Once you have created your project, it will be displayed in the general catalogue of projects.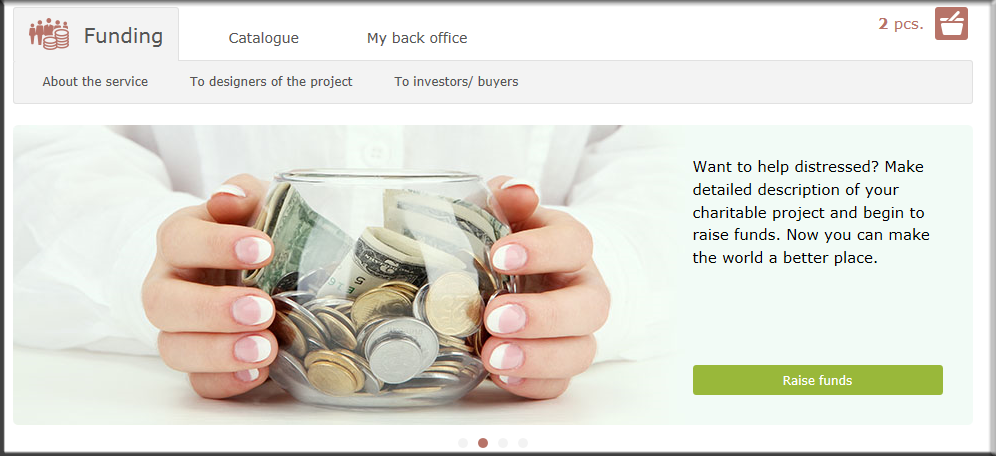 We wish you a successful start of your project!